Any DWG to PDF Converter is a batch converter that allows you to convert DWG to PDF, DXF to PDF and DWF to PDF without the need of AutoCAD. (New - 2020 DWG support)

Key Features
Batch convert an unlimited number of DWG/DXF/DWF files to high quality PDF.
Stand-alone utility - AutoCAD NOT required.
Versatile and customizable output. Enables you to choose the Size, Quality and Output Color of the PDF file.
Convert SHX, TTF font, Xref, embedded raster image/Excel in the drawing to PDF.
AutoCAD Plot Style CTB file and Line Width support.
Support paper space, model space and active layout.
Support for margin and custom page sizes.
Automatically adjust the page size based on the drawing.
Automatically recover the drawing if the drawing is damaged.
Create bookmarks in your PDF.
Ouput one PDF per layout, one PDF per drawing or all drawings into one PDF file.
PDF Properties support. Allows you to set the author, title, subject, keywords for the PDF file.
Supports every version of DWG/DXF/DWF files (Supports R2.5/2.6, R9, R10, R12, R13, R14, R2000/2002, R2004/2005/2006, 2007/2008/2009, 2010/2011/2012, 2013/2014/2015/2016/2017, 2018/2019/2020 formats).
Very easy to use.
The "Pro" version supports command line.
Download free trial version
Download Any DWG to PDF Converter Pro (Command line support)

The "Pro" version supports command-line options. For example:
dp.exe /InFile D:\sample.dwg /OutFile E:\sample.pdf
A full list of parameters can be found in the Help / Command Line Usage.
Step-by-Step Guide to converting DWG to PDF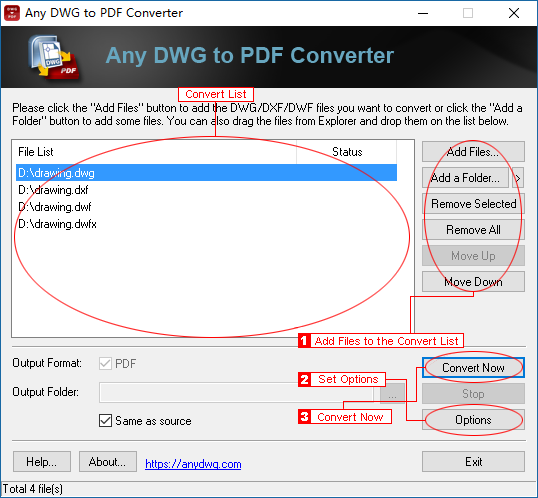 Run the DWG to PDF Converter, click the "Add Files" button to add the DWG/DXF/DWF files you want to convert or click the "Add a Folder" button to add some files. You can also simply drag files from Windows Explorer into the converter window.
Specify an output folder and set options.
Click the "Convert Now" button to convert the DWG files to PDF.

Download Free Trial
To install the program, please double-click the associated .exe file that you downloaded and follow the instructions on your screen.
To uninstall the program, please open the Windows Control Panel, click the Uninstall a program link (or Add/Remove Programs icon); or uninstall the program via Windows Start/All Programs menu.
System Requirements
Windows 95/98/ME/2000/XP/2003/Vista/7/8/10
64 MB of free available system RAM (128 MB highly recommended)
Buy DWG to PDF Converter
With the free trial of the program, you may test it free of charge for 30-times. If you want to continue to use it after the trial period, you must register the program. The registration fee for Any DWG to PDF Converter as low as US $83. The registration fee includes lifetime technical support and lifetime free future upgrades.
You can order the program over the Internet from our authorized vendors. The ordering page is on a secure server, ensuring that your confidential information remains confidential. After you submit your order, you will receive your Registration Code in an e-mail message, usually in about 5 to 30 minutes. The Registration Code you receive will work with the current release and all future versions.

Buy Any DWG to PDF Converter (

Just $83

)

Buy Now (

Just $83

)


Download Now (

FREE Trial!

)


Screenshot

Download Pro Version
---
Functional Navigation
pdf to dxf
convertitore dwg a pdf |
dwg till pdf konverterare |
dwg naar pdf |
dwg a pdf |
convertisseur dwg en pdf |
dwg zu pdf konverter |
dwg converter |
pdf to cad