DWG to PDF Converter

It is a batch converter that allows you to convert DWG and DXF files to PDF without the need of AutoCAD. Solutions for converting CAD files to PDF files - DXF to PDF Conversion

Screenshot (Click to enlarge)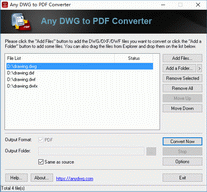 Key Features
Convert DXF files to PDF in batches.
Create and format PDF bookmarks.
Optimize PDF output settings for print, press or web.
Stand-alone utility - AutoCAD NOT required.
Supports every version of DWG/DXF files (Supports R2.5/2.6, R9, R10, R12, R13, R14, R2000/2002, R2004/2005/2006, R2007/2008/2009, 2010/2011/2012, 2013/2014/2015/2016/2017 formats)
Very easy to use.
System Requirements
Windows 95/98/ME/2000/XP/2003/Vista/7/8/10
64 MB of free available system RAM (128 MB highly recommended)
It is stand-alone AutoCAD drawing file conversion program, you do not need AutoCAD or Adobe Acrobat to use this PDF Converter. It supports R2.5 to R2012 DWG/DXF files.

Free Download

To download free trial version, please click here.

With the free trial of DWG to PDF Converter, you may test it free of charge for 30-times. If you want to continue to use it after the trial period, you must register the program. The registration fee for the program as low as US $83. The registration fee includes lifetime technical support and lifetime free future upgrades.

Buy DWG to PDF Converter

You can order the program over the Internet from our authorized vendors. The ordering page is on a secure server, ensuring that your confidential information remains confidential. After you submit your order, you will receive your Registration Code in an e-mail message, usually in about 5 to 30 minutes. The Registration Code you receive will work with the current release and all future versions.
Quick Links

Free Download

Purchase (

$83

)


Screenshot
Related products
DWG to PDF Converter
DWG DXF Converter
DWG to DWF Converter
DWG to JPG Converter
PDF to DXF Converter
DWF to DWG Converter
PDF to DWG Converter
Functional Navigation
DWG to GIF |
DWG to PNG |
DWG to WMF |
DWG to EMF |
DXF to JPG |
DXF to JPEG |
DXF to GIF |
DXF to BMP |
DWG to JPG |
DWG to JPEG |
DWG to TIF |
DWG to TIFF |
DWG to JPG |
DXF to TIF |
DXF to PDF |
DXF to TIFF |
AUTO CAD to PDF |
DXF to DWF |
DWG to DWF |
DWG to DXF |
DXF to DWG |
JPG |
DXF |
DWG to BMP |
DXF to PNG |
DXF to WMF |
DXF to EMF |
DWF |
DWF to DWG |
Site Map
DWF to DWG |
cad to pdf |
dwg dwf |
dwfin |
dxf image |